There are many support systems in place, such as tutoring services, technology support, laser cutting and 3d fabrication to aid in the production of your projects: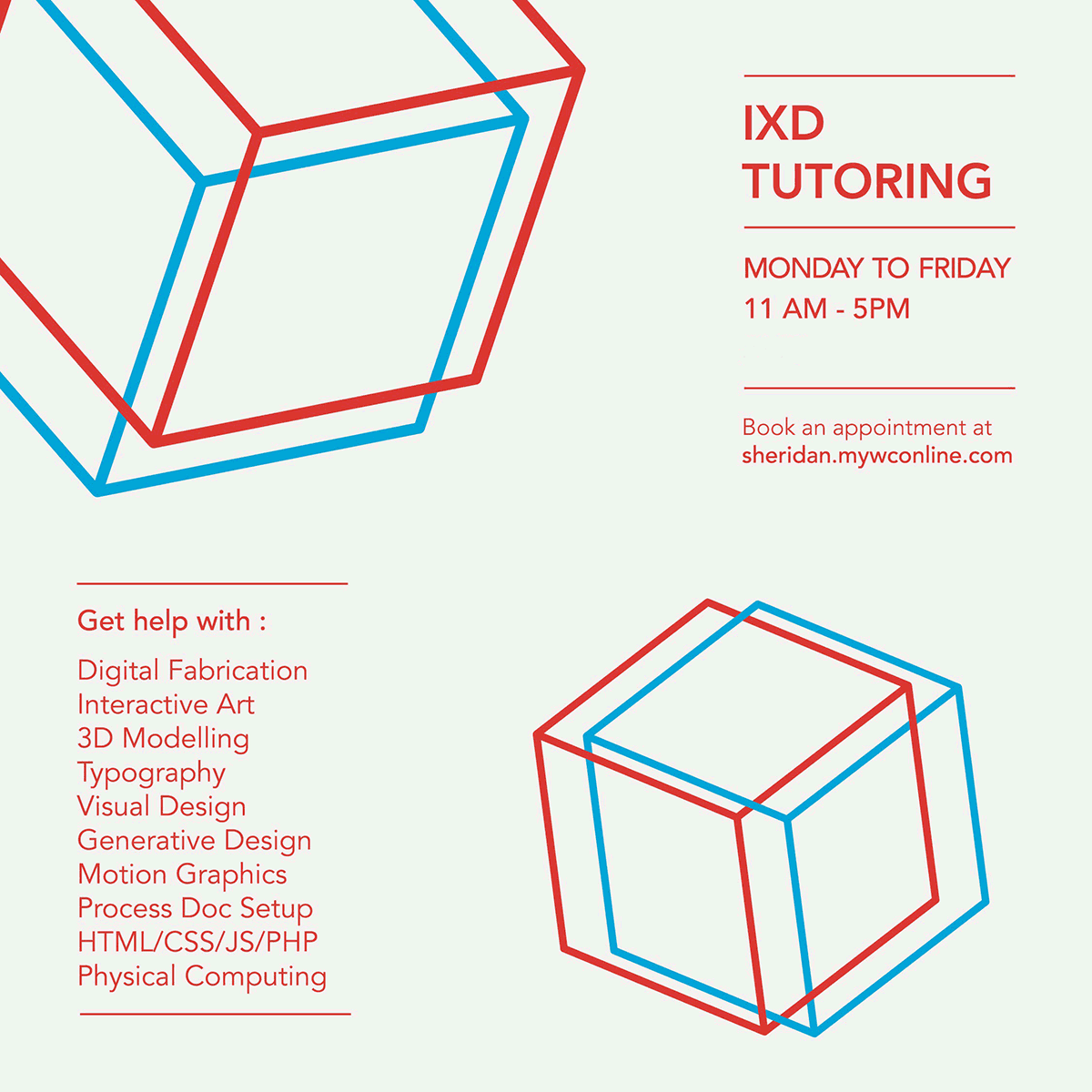 IXD Tutoring
The Bachelor of Interaction Design Program is dedicated to helping students get the support they need. The IXD Tutoring service is available Monday to Friday from 11am to 5pm in J117 during semester. In order to get help you will need to book an appointment online:
BOOK
Help is available for the following topics:
HTML/CSS/JS/PHP
Digital Fabrication
Interactive Art
3D Modelling
Typography
Visual Design
Generative Design
Motion Graphics
Process Doc Setup
Physical Computing
Sheridan Tutoring
Besides the program specific IXD Tutoring, Sheridan also offers a range of Tutoring services on all campuses. This is more generalized help with subjects such as writing, English language, citation and research.
MORE
There are also English Conversation Circles, so if you need to practice conversational English join a group:
JOIN
Accessible Learning
Accessible Learning facilitates equal access for eligible students with disabilities.:
MORE
Acadamic Advisement
Your academic advisors are always available to discuss your Academic Standing in the program, please contact:
Mark Shufflebottom
1st and 2nd Year Co-ordinator
mark.shufflebottom@­sheridancollege.ca
Myles Bartlett
3rd and 4th Year Co-ordinator
myles.bartlett@­sheridancollege.ca
Student Counselling
Wellness and Counselling Services – available Free of Cost - supports the academic, personal, and social growth of students from diverse backgrounds and with specific, individual needs. The college years can be times of accelerated growth and learning, significant challenges, and considerable stress. It is normal – and even expected – for students to encounter difficult or stressful events. However, when students use the resources available to them, there is a much greater chance of success and overall well-being.
MORE
Student Advisement
Student Advisement is the on campus place for all student questions and requests for information on anything related to Sheridan. Students can get their questions answered immediately:
MORE
Library Services
Library and Learning Services has a collection of resources that includes content related to design and technology, space for groups, individual and quiet work, and staff to help with research and referencing. Your librarian is Shelley Woods.
Library IXD Books
Map of Facilities
Fab Labs
We have Laser Cutting/Engraving as well as 3D printing services in our FabLab. More information, including file templates, can be found on their
SITE
Central Equipment Room (CER)
There is audio visual equipment that can be signed out by faculty and students from the Central Equipment Room (CER), located in room C110. CER is open Monday-Friday: 7:30 AM TO 4:00PM. Equipment can be booked online for later pickup, or can be picked up directly from room C110. You must show your Sheridan OneCard in order to sign out equipment. Any equipment reservation NOT picked up 30 minutes before the CER closes , will be cancelled and available for any other "day-of" bookings.
It is the student's responsibility to check all their equipment before leaving the CER . If equipment is damaged or missing components, then the student should immediately report the problem to the CER staff. Checking the equipment immediately on sign out ensures you will not be held responsible for any pre-existing damaged or missing equipment when you return it.
Any student, who takes out equipment is responsible for returning all the equipment on-time, to avoid being issued a late fine.
Students should also ensure that they return ALL items that came as part of a kit including USB cables, SD cards, manuals, etc. Failure to do so may result in your being charged to replace the missing items.
Students will NOT be allowed to reserve any equipment/facility during the Christmas break or after the last day of classes of each term without the written authorization of the Program Coordinator. Under no circumstances will students be allowed usage of any equipment/facility after the end of the Academic year.
A confirmation email, outlining your rental contract - equipment list, check out time, and check in time - will immediately be sent to your Sheridan email upon check out time. It is advisable to keep a hard copy or electronic copy on-hand, for spot security checks and as a reminder of what equipment needs to be returned to the CER.
Equipment Available for Hire:
Cameras
3

Blackmagic 2.5K Cinema Camera (MFT)

6

Blackmagic Pocket Camera (MFT)

7

Canon 5D mkIII

5

Canon 70D

40

Canon 60D

3

Ricoh Theta V 360 camera

3

Vuze 360 camera

1

GoPro Hero 3+ Black
Video Accessories
15

Manfrotto Video Tripod with carrying bag

1

Manfrotto 055x Tripod

4

Manfrotto Photo Tripod

5

DJI Mobile Phone Gimbal

1

Cinevate Atlas 30 Slider w/ Manfrotto tripod head

1

DSLR Shoulder Mount
Audio
2

Shotgun Microphone kit w/ Rode NTG2, blimp, boom pole, Zoom H4n Pro, headphones

2

Zoom H4n recorder

5

Sennheiser MKE400 camera shotgun microphone

8

Sennheiser EW100 G3 wireless lavalier kits
Lighting
4

Kino Flo Interview kit

2

Lowel Pro kits

3

LEDGO light kits

12

Stackable Manfrotto light stands
Grip
9

Cupo C-Stands

2

Magic Arms

2

Mafer Clamps

1

Camera Bracket

1

Illumi 3x6 Green Screen back drop

9

Sand Bags
Miscellaneous
2

Nexus Phone

2

Raspberry Pi

2

iPad Pro w/ pencil

1

Google Home

1

Amazon Alexa Dot

1

Pen and Dial for Surface Studio in G304